Administrator
Staff member
Administrator
Moderator
Founding Member
Owners Circle
Founding Vendor
I have a Boundless CFX Dry Herb Vaporizer.
I love it, it allows my to inhale my flower without inhaling 90%+ of the tar.

I have seen a variation of this modification where the screen is on the outside but I have never seen it done quite like this.
It make a pretty noticeable difference in the draw on the vape.

If you have a boundless you know how great it is but you also know that it has a very tight draw.
MTL would be over estimating the amount of draw these things have.

After this the draw is more on par with a MTL pod vape.


Here are some pics so you can get an idea of what I did and how easy it is.
(Photo 1)
The arrow is pointing to the original Boundless CFX Mouthpiece stock screen assembly.
One of the other two in the pic is what we will be using of to replace our entire stock screen assembly with.
(Photo 2)
This is a stock photo of the original stock screen assembly.
Notice they use a hollow bolt with a nut that has a lip so it can hold the screen on.
(Photo 3)
Top view of mouthpiece
(Photo 4)
The mouthpiece slides apart very easily for quick cleaning.
There is a large o-ring that keeps it air tight.
(Photo 5)
This is the entire mouthpiece assembly apart.
All you need to do is slide the new basket screen over the circle the red arrow is pointing to.
It fit's on nice and snug.
Perfectly almost like it was meant to be there.



(Photo 6)
Red Arrow showing screen basket in place
(Photo 7)
Put the mouthpiece assembly back together leaving the basket screen inside.
Notice the airflow hole that goes directly over your dry herb is now 30% bigger than it was when the stock screen was there
Also the screen is WAY easier to clean.
You just take the assembly apart and rub the screen basket off with your finger or a napkin.
A small screwdriver is required for the stock assembly.

It's really that easy.



These screens are actually made for the Arizer Extreme Q/V Tower but they work GREAT for easily upgrading your Boundless CF of CFX

These come in packs of four or ten.
You may as well have a few extras becaue eventually you'll be needing to clean one and vape at the same time.




Screen Specs: Internal diameter - 16mm + External diameter - 12mm + depth - 8mm



Links to easily mod your Boundlless CF/CFX dry herb vaporizer:

(Google "Arizer Extreme Q/V Tower screens" to find what you need if links are dead)



Buy 10 PCS Elbow Screens Filters Caps for Arizer Extreme Q/V-Tower Aromatherapy Hot on Amazon.com ✓ FREE SHIPPING on qualified orders




10pc Bronze Elbow Screens Filters Caps for Arizer Extreme Q/V-Tower Aromatherapy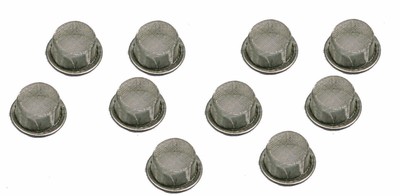 Manufactured and Sold by BMTick UK/EU.